Sam Manzie Info Page
---
Here's a pic of me from October 1996...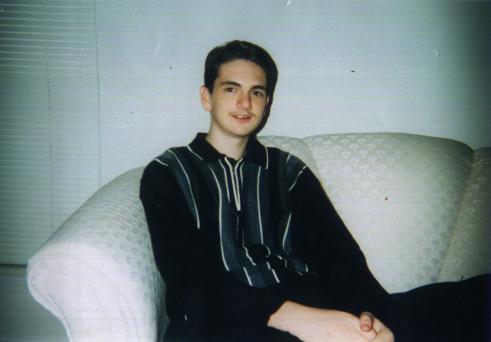 ---
Want to e-mail me? Click here.

You can locate me online on any of my 3 screen names if you're using AOL...
[ XSpaceboy1 ] [ SamLuvsRae ] [ Sam82 ]

Also if you're using AOL you can check out my profile by clicking here.

Click here to see my pet stick, SpaceBugg.
---
Here's some info about me...

I was born in California, later moved to Florida, then North Carolina, next Monmouth County in New Jersey, & last Ocean County in New Jersey.

Since half way through kindergarten I have been attending private Catholic schools. I wasn't baptized, however, until I was 7. I was Confirmed in 7th grade, but my current theory on God (which is apt to change a lot) is similar to Billy Corgan's - I don't care if he exists & if he does I don't think he cares if I care that he exists.

For high school I attend Christian Brothers Academy (CBA) in Lincroft, one of the finest schools in the state. It's an all boys private Catholic high school located on a beautiful 157 acre campus. About 882 people attend CBA, 83% Catholic, 94% Caucasian.

CBA's dress code is...
Tie & shirt designed for a tie - no flannel shirts.
Long solid colored dress pants - no jeans or corduroy pants.
Dress shoes - no sneakers or boots of any kind.
Hair must be kept short & look neat. No facial hair or long sideburns. No earrings.
Yes, having a dress code sucks, but at least it's better than having to wear a uniform like most private schools I know of.

Here's a link to CBA's web page & an aerial shot of the campus...
Christian Brothers Academy (Lincroft, NJ)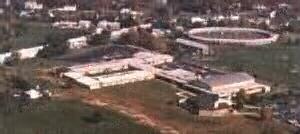 Smashing Pumpkins
Recently, Smashing Pumpkins have become my favorite musical group. They're all I listen to now & I have 36 Smashing Pumpkins related CD's. I first liked them in the summer of 96 when I saw the 1979 video - I had never heard of them before that. When I first listened to the Siamese Dream CD I heard the song Disarm & was amazed, because I didn't think that was a Smashing Pumpkins song. I remember liking that song years ago when I would hear it on the radio. It's only been several months since Smashing Pumpkins have been my favorite group, but I guess you could say I've gotten obsessed with them in that short amount of time.

The only other music groups besides Smashing Pumpkins that I will sometimes listen to are The Prodigy, The Frogs, Bis, & Underworld.
Q-zar
Q-zar, like Smashing Pumpkins, is another thing that I have recently gotten into. It's a laser tag game. Since June 12th, 1997 I have played 56 times. I normally play at the one in Six Flags Great Adventure in Jackson, NJ, my home town, but I have also played at the one in Milford Amusement Center in Milford, CT & the one in Wayne, NJ.

My top score for an 8-minute game of Q-zar is 17,400. My top score for a 15-minute game of Q-zar is 23,700 - I dedicated this game to my girlfriend Laura (see her picture below.)

I'm always trying to learn new blocks for Q-zar, because the ones I have been using never worked too well. I recently made one up that works pretty well (but I still need to learn a better one.) What I do is crouch down with my back to a corner & have my knees cover my front chest pad censor. I hold the gun sideways right above the front chest pad censor with the left side of the gun facing down & the right side facing up. I use my right forearm to cover the censor on the side of the gun facing up. In this position, I can shoot to my side & only have the censor down the barrel of the gun exposed. Or I can shoot in front of me if I take the gun out of it's position, but this exposes the censors on the sides of the gun. This block works best if I'm wearing something all black, like my Zero shirt, my black Dockers, & black Airwalks, because when doing this sometimes people have walked right by me & they never even saw me. I always love shooting people over & over & watching them get real confused trying to figure out where the shots are coming from.

Here's some links to some good Q-zar web pages...
The Unofficial Q-Zar Homepage!
02E.HTM

Here's a pic of the red Q-zar vest & gun (I almost always play on the Red team)...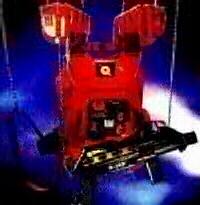 More stuff on me & Smashing Pumpkins
Here's a list of all my current favorite Smashing Pumpkins songs & a quote from each. The songs are listed in order of the first to become my favorite to the most recent to become my favorite...
Mayonaise ("Can anybody hear me, I just want to be me")
Tonite Reprise ("Believe that you can change, that you're not stuck in vain")
Muzzle ("I fear that I am ordinary just like everyone" ...almost every line from this song has special meaning for me)
...Said Sadly ("You should know that I love you, We should love like lovers do")
Silverfuck ("I don't trust anyone" --from a live version)
In The Arms Of Sleep ("And I'll always need her more than she could ever need me")
The Aeroplane Flies High (Turns Left, Looks Right) ("I've always been afraid to die, but I think I'm more afraid to live")
Towers Of Rabble ("Truth is rare, this I believe, Truth is in their pure deceit, Blessed in your naivete")
Spiders (instrumental)
Worms Part II (instrumental)
Rocket ("I torch my soul to show the world that I am pure deep inside my heart")
Here Is No Why ("And in your sad machines, you'll forever stay...And if you're giving in, then you're giving up")
Obscured ("Lost your head, Now you sleep on the floor, What you said, I don't want anymore")
Infinite Sadness (instrumental)
Zero ("I'm in love with my sadness")
Galapogos ("And if we died right now, this fool you love somehow is here with you")
Hello Kitty Kat ("Slit my wrists and die a whore, Love to love to love what you adore, I can give you anything, but please let me Be your everything... please")
Tales Of A Scorched Earth ("And let me be, let me die inside"
Love ("I can't help what you see, I can help but to be")
Siva ("Way down deep within my heart, Lies a soul that's torn apart")
Spaced ("God is hurt, God is cold, Try that once, God is dead")

Here's a list of all the Smashing Pumpkins related stuff I own...
CD's
1979 Mixes import
3 Feet High bootleg (2 copies)
The Aeroplane Flies High (5 CD's boxed set)
Batman & Robin Soundtrack
Billy's Home Demos bootleg (3 copies!)
Cherub Rock single
Disarm Smile single (2 copies)
The End Is The Beginning Is The End import single
The Frogs: Starjob (produced by Johnny Goat, a.k.a. Billy Corgan - 2 copies)
Gish - remastered
I Am One single
Lost Highway Soundtrack
Love Is Suicide import interview disk
Lull EP
Mellon Collie And The Infinite Sadness (missing disk 2)
Mellon Collie And The Infinite Sadness (with both disks)
Party All Night bootleg
Peel Sessions
Pisces Iscariot (2 copies)
Pluggelectric bootleg
Siamese Dream - explicit version
Today single
Tribute To BOC bootleg
The Unauthorized Edition - Fully Illustrated Book & Interview Disk import

Audio Casettes
Rare Songs compilation
Rare Songs Vol. II
Rare Songs Vol. III
Earphoria
Three Feet High
Stockholm Live
We Are From Another Planet
Turpentine Kisses
Reading 95 Festival
1-30-96, San Diego (2 tapes)
11-23-96, Oklahoma City (2 tapes)
10-6-96,Chicago (2 tapes)
MCIS Demos
1989 Demos
Sounds Of Turnips
Pre-Mellon Collie Favorites compilation
TEITBITE single/Depressing Songs compilation

Video Casettes
- Vieuphoria
- All 12 Smashing Pumpkins music videos + Today, Siva, & Bullet With Butterfly Wings live
- Billy Corgan Age 8 MTV Promo Commercial + The Frogs on Oddville performance (Billy Corgan is good friends with The Frogs) + Landslide peformed live by Fleetwood Mac (SP has covered this song)

Posters
Baldy (from left to right: James, Billy, & D'arcy, red backround, Billy is bald)
Tonight, Tonight
Siamese Dream twins

Shirts
- Vegas Logo shirt (black shirt, "Smashing Pumpkins" with design of lights on front)
- 666 shirt (black shirt, red sleeves, "666" in red on front, "666" in black on sleeves, "Beelzebub" in red on back - click here for more info)
- Barcode Vortex shirt (white shirt, cartoon faces with barcodes on forheads in swirling pattern & "Smashing Pumpkins" on front, "Leave Me Alone" on back)
- Zero (I have 2 of them - shortsleeve black shirt, "Zero" with a star under it on front, silver SP heart on sleeve)
- Count Billy (black shirt, "The World Is A Vampire" with Vampire-like cartoon face on front, "Infinite Sadness Tour" on back)
- Silver SP Heart shirt (black shirt, silver SP heart on front, MCIS tracklist on back)

Here's links to my 3 main Smashing Pumpkins web sites...
XSpaceboy1's SP Page
Kewl SP Info Page
The Great Smahsing Pumpkins Trivia Quiz
---
A picture of my girlfriend, Laura, is below. This picture was taken in May of 1996. She lives in Arizona & will be 16 in November. Me met several months ago online in the Smashing Pumpkins private room on AOL. Since then we have become very close. Visit her web page, The Pumpkin Ear (part of Stars Falling) to get the inside info on all the latest Smashing Pumpkins rumors.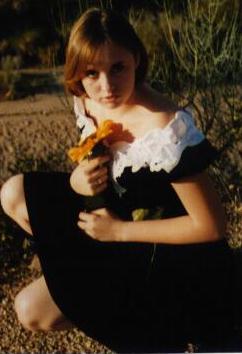 ---
Here's some samples of my writings...

This 1st one is an essay that I wrote in 8th grade. The topic was "True Friendships Are Forever" & I won 1st place with this essay for the Catholic Daughters Of America Contest...
A true friend is hard to find, but once you have found one, the friendship can last forever.
There are certain qualities that true friends have. A true friend helps you out when you are in trouble, sticks by you through hard times, and is someone you can count on to tell you the truth. A true friend wouldn't just say what they think you want to hear and wouldn't get mad at you if he/she disagrees with you. A true friend will stick by you, even when the popular crowd doesn't. Anything else is being a crowd pleaser, someone who values their own popularity more than the friendship. Also, a true friend is someone you can trust to talk to and share secrets without fearing that they will become a public knowledge.
Even if someone has all these qualities, it may not be a true friendship, because true friendships go both ways. All of the qualities that your friend gives to you should be given back, otherwise one is taking advantage of the other and it wouldn't be a true friendship. True friendships are a very great and valuable thing to have, and if both friends work together, the friendship can last a long time.

This next essay is about Beavis & Butthead. I didn't win any prizes for it or anything, I just wrote it because I was bored back in May of 1997. My purpose was to take a totally nonsense topic & make it sound very intelligently thought out...
Who would win in a fight - Beavis or Butthead?
At first, one might assume that Butthead would win in a fight against Beavis; however, after a deduction of both characters one will find that this is not true. Butthead seems to be the dominant one of the two characters. Butthead is also the stronger one and the one who inflicts more physical abuse on the other. Usually Beavis seems to take it and will submit to Butthead's demands to "Shut-up" only after being physically assaulted by him. There are a few instances, however, where Beavis will be struck by Butthead repeatedly, will get pushed over the edge, and will burst into a paroxysm of violence against Butthead. Thus, it can be concluded that although Beavis gets more injury inflicted upon him, he would win in a fight.

This last essay was written, like the Beavis & Butthead one, for my own leisure. But I actually took a serious topic for this one - I discuss the benefits of an all-boys schools in this essay. I wrote it in March of 1997...
Should CBA Become Co-ed? Sam Manzie's Opinion
First of all, it must be understood that our opinion doesn't matter and that CBA will be an all boys school for a long time to come no matter what we say. Even the state has no say in this since CBA is a private institution which does not recieve public funds.
For three hundred years it has been a tradition for the Lasallian educational institutions to teach males only. The few exceptions to this is when the Christian Brothers took over a school that was already co-ed or when a Christian Brothers school was suffering financially so bad that it had to let girls in to remain opened. One might say about the all boys tradition that it should stop since society accepts more and more the rights of women in modern times. This is a liberalist idea and since I am a conservative, naturally, I do not agree with it. The liberals might call me sexist, but they should take a look at one of the major reasons that people who share their opinion want girls in CBA: They want to have something to stare at during those long, boring 41 minute periods. I say that this reason for wanting girls to go to CBA is more sexist than not allowing them into CBA in the first place.
Some of the liberals have a less sexist argument for this matter: An all boys schools will hinder the social development of the boys attending it. I think that this argument is just an excuse for not having any friends or not being able to get a girlfriend. It is not impossible to have a normal social life while attending a same-sex school. School only takes up ¼ of the day, leaving ¾ to socialize and be with a girlfriend.
Attending an all boys school is helpful for academic studies. Since there are no girls there are some pressures that are taken away. For one, you don't have to worry about looking good to impress anyone. I'm not saying you should look like a slob and not worry about it, but that you only have to look good for yourself and no one else. Next, the absence of girls makes participating in class more comfortable; there is less worry about getting an answer wrong. Last, with the absence of girls there is less emphasis on popularity and cliques; this relives much social tension and allows you to concentrate more on academics.
With all these reasons supporting the concept of all boys schools there are still people who would prefer to be in an educational environment with females. These people shouldn't however complain, because CBA isn't the only school in New Jersey. There are many other private and parochial schools in the area that they could go to.
---
I hope you like this page. E-mail me if you have any comments.

Links to my other web pages...
XSpaceboy1's SP Main/Bootleg Page
Kewl SP Info Page
The Great SP Trivia Quiz