The 666 Shirt!
---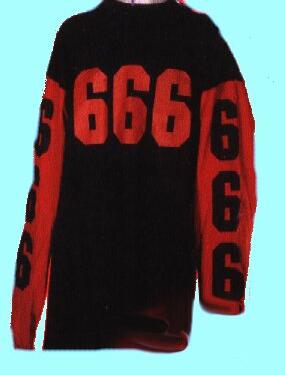 Info about the 666 shirt
What it looks like:
- Black with red sleeves.
- 666 is written in red on the front & in black on both sleeves.
- BEELZEBUB is written on the back in red.
Why Billy Corgan has a 666 shirt:
- He doesn't worship Satan or anything like that. He wears it to send out the message that we shouldn't be afraid of any numbers.
When Billy Corgan has worn it:
- In Vieuphoria he can be seen wearing it for the Cherub Rock acoustic performance.
- Also in Vieuphoria, during the Mayonaise performance there's a short clip from something where Billy Corgan is seen wearing it.
- I'm not sure about this, but I think Billy is wearing it for the Out Of Focus bootleg CD cover.
- He can also bee seen wearing it in several pics.
Click here to see pics of Billy Corgan wearing the 666 shirt.
Ordering Info.
Short sleeve - $35
Long sleeve - $40
The long sleeve version is the one that Billy Corgan has.
Click here to order.
Click here to go back to the main page.